Lakeside Kids
know | Grow | go
Our Mission
Lakeside Children's Ministry is committed to providing a Christ-centered, bible based, safe environment where children will learn who God is, what it means to follow Jesus, and how they can serve Him in their home, church, school, and community.
SUNDAY MORNINGS
Join us every Sunday from 9:00 AM - 10:15 AM as we study God's word together!
Classes
MID-WEEK
Memorize God's word and have a blast at Kid's Beach Club on Thursday and Awana on Wednesday!
LEARN More
SUMMER ACTIVITIES
Don't miss out on the fun this summer! Sign up to attend Preeteen camp, music camp, VBS, and more!
View Events
Sunday Mornings
9 Am Sunday School | 10:30 AM Worship service
Arrival Information:
We can't wait to meet you and your children! When you arrive you can expect to be met by our welcome team and escorted to the kids check-in area in the children's building. At check-in, preschoolers and children will receive a name badge and parents will receive the corresponding check-in number for their child. Please make us aware of any allergies or special instructions/needs when you are registering your child. Please bring your corresponding claim ticket with you when you pick up your child after church.
NURSERY
Spending time with our youngest visitors is the highlight of our workers week! Nursery is provided for infants through one year old during both the Sunday School hour and during the Worship Service. A nursing mothers room is available in our nursery area for your convenience.
PRESCHOOL
UpTown Preschool is our Sunday School environment created especially for children ages 2-5 years old. We know things are busy at this stage of life and your children are learning and growing in amazing ways. We are ready for them! Our D6 curriculum offers Bible based fun and learning at every stage for your preschooler. We can't wait to meet your preschooler!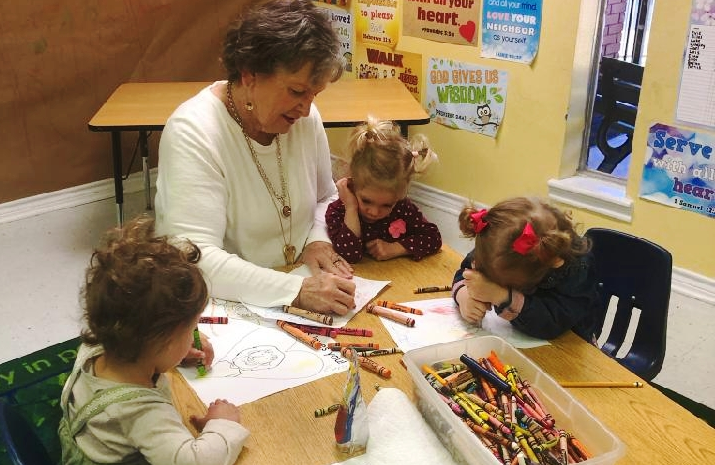 K - 6TH GRADE
Sunday School starts in kids BIG city park after check-in. Kids and leaders engage in a large group gathering for worship from 9:00 – 9:15. Leaders then take their kids, grouped by grade level, to their classrooms for a more personal small group time and application of the Bible story for that week. Kids are brought back to kids BIG city park for pick-up by parent/guardian.

Kids Beach Club
Lakeside Baptist Church is excited to partner with Kids Beach Club to provide a high energy, fun filled "kid centered" club that meets every Thursday after school at Canton Middle School.
Learn More
Awana
Awana meets Wednesday nights during the school year and provides fun, age-specific programs for children ages three - 6th grade.
Learn More